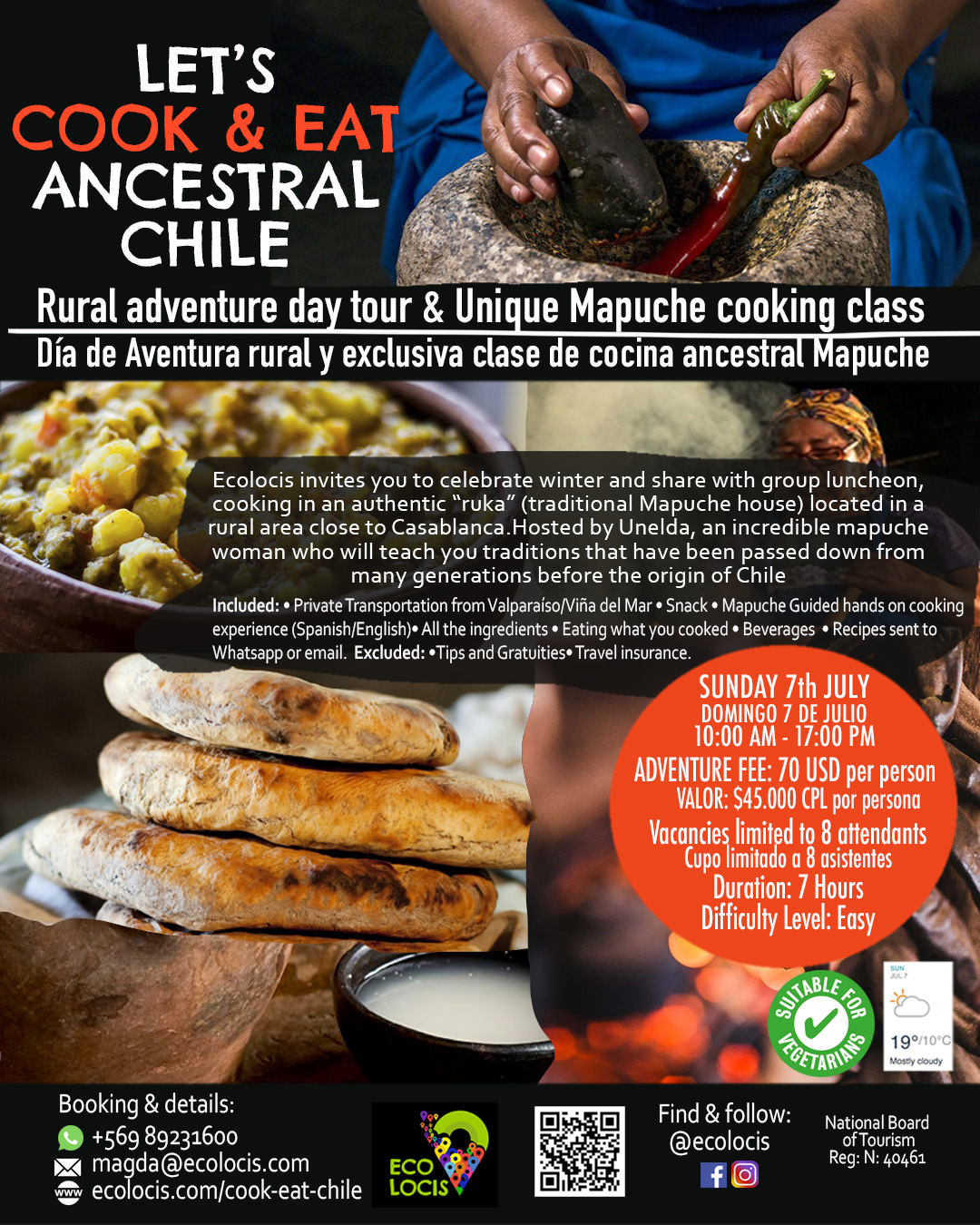 Rural day tour + Unique mapuche cooking class adventure
Duration: 7 hours

Difficulty level: Easy 

Adventure Fee: 70 USD / $45.000 CLP
Mapuche means "people from the Land", everything they do has a strong connection with nature and ancestral life. Their cuisine, food and flavors are always present in Chilean traditional recipes. 
Join us in this is a unique opportunity to meet a local mapuche family, visiting a very rural area close to the Casablanca, learning, sharing and cooking in a local "Ruka" (traditional Mapuche house). Mapuche cuisine depends from the fruits that provides the local territory, then some of the ingredients will be locally produced. 
Let's share and celebrate winter in rural life with group luncheon, hosted by Unelda Huenchumil, and incredible and sweet mapuche woman, you will discover the secrets of a Mapuche's millenary culture through the experiences of food and flavors cooking and sharing in an authentic "ruka" (mapuche typical house) where you'll learn the culinary traditions that have been passed down from many generations before the origin of territory of Chile. 
Itinerary
9:00 am 
You will be picked up by private transportation from your home/hotel in Viña del Mar/Valparaíso. If you are in Santiago please let us know, there's a private shuttle service with limited cupes that would pick you up at 8:15 for an additional extra fee of $15.000 CLP
10:00 am   
We will start our journey with hiking guided (around Quillaycillo zone) to

collect leaves from native trees and bushes for infusions

preparations

Approximately 1,5 hours of hiking

Deep Nature connection session and learnings about mapuche's wordvision  from our expert guide during the hike

Return to Unelda's Ruka

Snack box meal and coffee/tea
11:30  am
After the snack we will start the cooking class with an introduction to mapuche cuisine and  learn about the mapuche food and local ingredients and recipes, this time we will learn how to cook "Charquican"(main course) , "Pebre con merken", "cochayuyo", "sopaipillas mapuches",  "catutos/Multrun", Millokin, Tortilla de rescoldo. Prepare de beverage as infusion and Muday, to finishing with an introduction to mapuche desert preparation. 

We'll start the cooking session working by groups and task determined by the recipes.
13:30 am
Lunch time 😛

Dessert time 😀
17:00 am
Approximate time of arrival to Vina del mar/Valparaiso travelers will be taken to their house/hotel in Valparaíso/Vina del Mar. (probably 1 hour later if your drop off is in Santiago)
What's included?: 
Private Transportation from Valparaiso/Vina del Mar (please tell us if you need transport from Santiago) 

Snack and water refill

Lunch (with food locally produced) 

Eating what you cooked 

Beverages including a glass of Chilean wine

Bilingual landscape expert local guide

All the ingredients, kitchen apron and utensils

Recipes sent to Whatsapp or email
What's not included?: 
Optional tips and gratuities for guides 

Travel insurance
Personal equipment needed: 
Light clothing for walking,trekking shoes or shoes that are strong and comfortable, warm clothing, bottle of water (we could refill them), and comfortable backpack. 
Suggestions:
Bring your camera if you have.
* This adventure is suitable for vegetarians 
* *This adventure is suitable for childrens from 10 years old, just let us know if you want to join with kids.
Here some examples of what you will cook and eat: