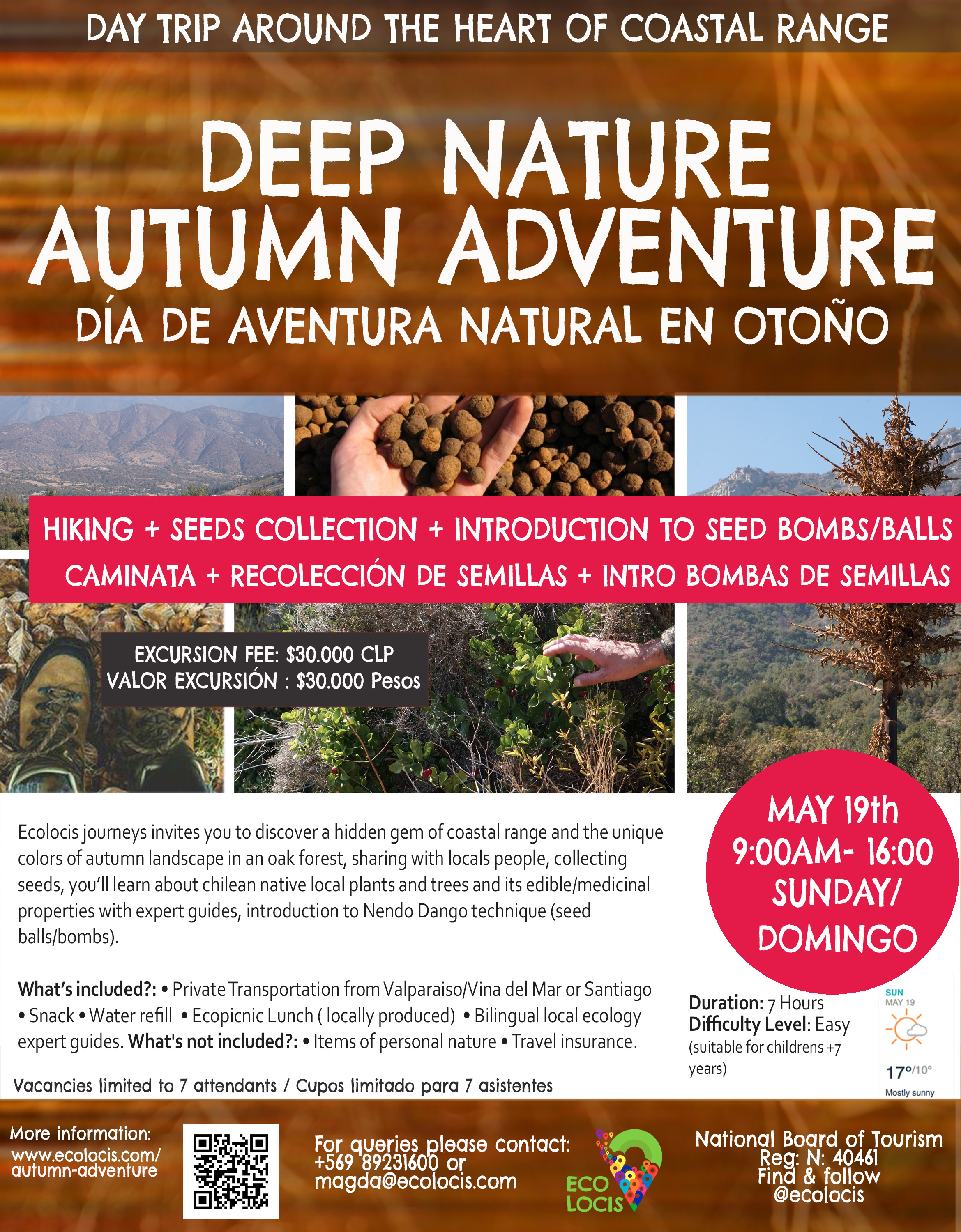 NATURAL EXPERIENCE IN HEART OF COASTAL RANGE (LAS PALMAS OF QUEBRADA ALVARADO)
HIKING + SEED COLLECTION + INTRODUCTION TO SEED BALLS/BOMBS (FUKUOKA OR NENDO DANGO METHOD)
Duration: 7 hours

Difficulty level: Easy*

Maximum Height: 1500 m.o.s.t.

Excursio Fee: 50 US / $30.000 CLP
Autumn in Middle Chile is the best season to discover colors of the hidden treasures of endemic plant world and natural life in coastal range. This day trip will take you to breath-taking scenery of high-altitude of Coastal range (Around Cerro El Roble**) and the impenetrable old oak tree forests with an impressive panoramic view of the coastal range and Andes range.  During the hike you will get a session of native plants, trees, birds from experts guides, while are collecting seeds from trees and plants.
The second spot once we get down, wil be reserved for a seed activities session:  exclusive Nando Dengo session introduction (Fukuoka method), so you will create your own seeds bombs  (little nuggets of clay, compost, and native seeds that you throw at the ground)
Itinerary
9:00 am
You will be picked up by private transportation to their home/hotel in Viña del Mar/Valparaíso. If you are in Santiago please let us know, there's a private shuttle service that would pick you up at 8:15.
10:00 am   
We will start our ascent to an oak forest hike road (by the side of El Roble Hill in Quebrada Alvarado zone)

Approximately 2 hours of ascent

Deep Nature connection session and learnings from our expert guides during the hike

Snack box meal in the summit

Descent
13:30  
We will departure in our private transfer toward the direction of beautiful valley of Las Palmas in Quebrada Alvarado zone

Eco-picnic Lunch with fresh locally produced food from the zone.

After lunch we'll start a workshop of (Fukuoka/Nendo dango) session working with collected and additional seeds (you could creat bombs for necklaces, bracelets etc.)
17:00
Approximate time of arrival to Vina del mar, travelers will be taken to their house/hotel in Valparaíso/Vina del Mar. (probably 1 hour later if your drop off is in Santiago)
What's included?:
Private Transportation from Valparaiso/Vina del Mar (please tell us if you need transport from Santiago)

Snack

Water refill

Eco-picnic Lunch (with food locally produced)

Bilingual botanical,ornithologist and landscape expert guides for hike and workshop session.
What's not included?:
Items of personal nature

Optional gratuities for guides

Travel insurance
Personal equipment needed:
Light clothing for walking (pants, shirt, windbreaker, preferent colors green, brown or black), trekking shoes or shoes that are strong and comfortable, warm clothing (fleece, hat, gloves), sunscreen (sunglasses, hat, blocking cream), bottle of water (we could refill them), and comfortable backpack. Please consider that we'll do some clay work and collect seeds, so it's possible that your clothes get dirty (stains should be gone only with water)
Suggestions:
Bring you camera or binoculars if you have.
* This adventure is suitable for childrens from 7 years old, just let us know if you want to join with kids.
**El Roble National Park is closed several month ago, this trekking goes to a different side of the Hill, it's a well-defined hiking trail that use to be the official path that connect with an old quartz mine. We will climb around 1300 meters, in special spot where you could have the whole view of the valley, La Campana and El Roble Hill.
For queries  and registration please:
Contact Us